At Seattle Eye, we value the time our patients have with us!
We are committed to meet your eye care needs while providing a comfortable and safe visit every time.
Our goal is to ensure that you and your family receive the care you deserve.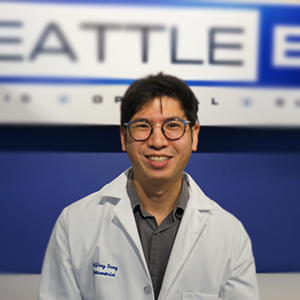 Specializes in treatment and management of various ocular diseases and eye examinations.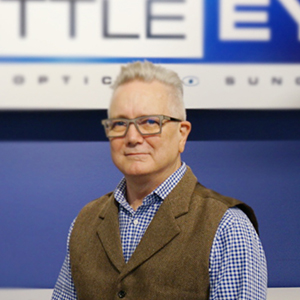 Specializes in all optical needs to ensure patients see clearly and comfortably.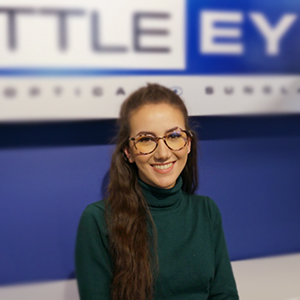 Dedicated to help patients receive the attention they need at every visit.
Dr. Fang grew up in Michigan and graduated from Albion College with a degree in Biology and a concentration in Neuroscience. After traveling overseas for a year, he made his way to Florida and graduated with a Doctor of Optometry degree from Nova Southeastern University – College of Optometry, where he was a member of Beta Sigma Kappa, the optometric honor society.
In his spare time, you will probably find Dr. Fang hiking, traveling, or eating his way through Seattle's many wonderful restaurants.
When he's not on the piano playing his favorite Rachmaninoff or Chopin pieces, he is spending time with his wife and 2 dogs, Fuji and Kiwi.
He has also been known to support a Detroit sports team or two.
Hailing from England, Paul is committed to ensure your optical needs at Seattle Eye are well taken care of! With over 30 years of experience in optical, he enjoys working with patients to find the perfect styles and lenses for their needs.
Huge Chelsea fan; he enjoys spending time with his Jack Russell, and on his free time, you might find him cruising around town on his motorcycle.
Probably the first person you interact with when contacting us at Seattle Eye! Kelly is from the Seattle area and currently studying to become an anesthesia technologist.
In her spare time, you'll find Kelly painting and spending quality time with her three dogs; Kuma, Champ, and Billy.
We're here for your eye care needs!
Monday: 12:00 PM – 7:00 PM
Tuesday: 9:30 AM – 5:00 PM
Wednesday: 9:30 AM – 5:00 PM
Thursday: 9:30 AM – 5:00 PM
Friday: 9:30 AM- 5:00 PM
Weekends: CLOSED